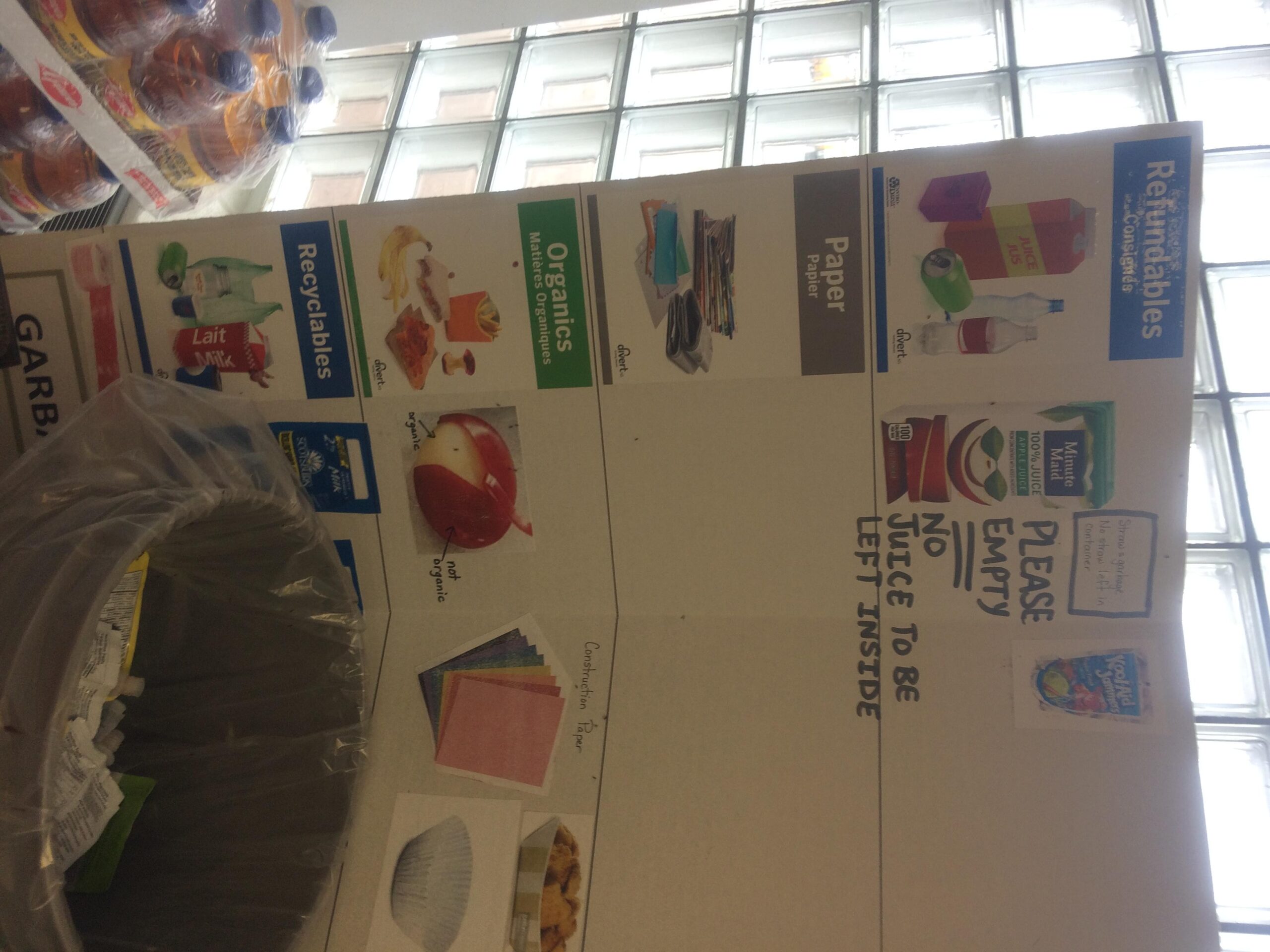 A.G. Baillie Memorial School in New Glasgow school is doing all kinds of green things to help waste less and help the environment. In November the Grade 4 classes learned that LED lights use significantly less energy than incandescent lights, especially the holiday mini lights. Incandescent lights waste energy that you can sense: they produce unnecessary heat. Incandescent light bulbs get so hot, they have been used to bake in an Easy Bake Oven! A 100 Watt light bulb can heat the little oven to temperatures of 350℉ (177℃) and higher! That's a lot of energy! Who knew?!
AG. Baillie has a great recycling system in the cafeteria where students take the extra step to rinse their containers before sorting them. Mme. Corbin worked with students last year to create a beautiful standing poster that shows what goes where to help students with the sorting process. While I was visiting the school I noticed that students asked around to ensure their waste goes in the right place. This system does significant work to minimize waste and to ensure most of the school's waste is diverted from the landfill and can be recycled.
In their recycling centre, A. G. Baillie also has special bins from TerraCycle to make sure certain waste products are recycled, such as "Lunchables" packaging. TerraCycle has lots of different recycling programs for schools and organizations so participants can sign up to recycle certain products that ordinarily wouldn't be recycled. TerraCycle sends the school/organization shipping supplies, and even pays for the shipping. Whatever the school/organization recycles gets turned into new products, and the school receives TerraCycle points which they can spend on different eco-friendly rewards! TerraCycle has a "Bin It to Win It" contest going on until November 30, so check out how your school can enter to win $250 and prizes!
Mme. Corbin is helping students to save up their pop can tabs to help have wheelchairs made. While pop can tabs are rather small, they can add up rather quickly to help supply aluminium to make new wheelchairs for those in need. If your child or someone you know attends A.G. Baillie, please give them your pop can tabs to contribute to this great initiative!
Congratulations to Educational Assistant Pam Cameron for all of her amazing green work and dedication to AGB and to helping reduce waste! Check out this Divert NS video which features AGB and Mrs Cameron! AGB is shown around the 2 minute 15 second mark. Mrs Cameron is retiring before this year's winter break, and she will be missed. Best wishes to her, and to AGB on continuing on this green legacy! At Green Schools NS we look forward to continuing to work with this school to help support green efforts and initiatives, to ensure a greener, healthier planet.
-Pam Chandler
Engagement Officer, Northern Nova Scotia